ClubTest 2022: 24 new fairway woods tested and reviewed
CLUBTEST FAIRWAY WOOD REVIEWS
Callaway Rogue ST
We tested: Rogue ST Max: 15°, 16.5°, 18°, 20°, 21°, 24°, 27°; Rogue ST Max D: 16°, 19°, 22°; Rogue ST LS: 13.5°, 15°, 16.5°
Our take: Not every golfer uses a fairway wood for the same purpose, but nearly every tester had one of Callaway's three models in their list of top performers. The Rogue ST Max was high launching and insanely forgiving for golfers who needed more height, the Rogue ST LS showed prowess in knocking down spin without losing accuracy, and the Rogue ST Max D helped slicers experience a high draw ball flight.
Callaway Rogue ST Max fairway wood
The new Rogue ST fairway woods represent a breakthrough in fairway performance, in fact they're up to 10 yards longer. Callaway's industry-leading innovations, including the all-new Tungsten Speed Cartridge, new Batwing Technology, and an A.I.-designed Flash Face are engineered for maximum speed with exceptional levels of forgiveness.
The details: To enhance both stability and speed in its Rogue ST fairways, Callaway designed two Jailbreak structures that sit behind the extreme toe and heel portions of the A.I. optimized faces; it's called Batwing technology. The winged design helps reduce speed loss on mishits, but maintains speed by keeping the faces flexible. Also, a heavy Tungsten Speed Cartridge sits in the sole near the face to move weight low and forward, helping golfers lift the ball higher off the turf and increase speed on shots hit low on the face.
Cleveland Launcher XL Halo
We tested: 15°, 18°, 21°
Our take: The Launcher XL Halo woods are made to launch the ball with ease, helping golfers get the ball airborne just as easily from the fairway as it is off the tee. Which speaking of these woods are the next best thing to using a Cleveland driver—so much that we were amazed at how far the ball flew, almost catching up to how far we hit the Launcher XL driver. They're both very easy to hit and exceptionally forgiving as well. Our misses were dare we say, still really good.
Cleveland Launcher XL Halo fairway wood
Tired of duffing your woods? Because these Cleveland Launcher XL Halo woods have Gliderail tech that helps improve turf interaction for better shots off the deck. When you mix that with oversized heads, low centres of gravity, and Rebound Frame, you'll duff 'em less and launch 'em more.
The details: Featuring a bigger head with a higher MOI for added stability, the XL Halo fairway woods also include Gliderail tech on the sole for stability, a Rebound Frame for more energy transfer and Action Mass CB (counterbalancing) for improved balance and feel.
Cobra LTDx
We tested: 15°, 18.5°, 22.5°
Our take: It's almost as if Cobra had some extra distance leftover in their drivers that they then sprinkled into the new LTDx fairway wood. It's crazy long and according to some of our testers, "felt hot and extremely solid with big numbers on the launch monitor."  Which speaking of launch, we found shots hit with the LTDx to fly high with relatively low spin—making it a perfect driver alternative that won't leave you further back in the fairway than you'd be with just about any other wood we've tried.
Cobra LTDx fairway wood
The LTDx Fairway is designed for pure distance, high launch, and straight ball flights.
The details: This is a fairway wood built for sheer distance and it delivers, thanks mainly to the internal PWR-COR weighting system that positions weight low and towards the front to produce that much-coveted low-spin/high-launch ballflight. Other power-generating features include AI-designed H.O.T. Face Tech for more distance across more points on the clubface; fixed weighting towards the back for more forgiveness and also to boost ballflight; a lightweight carbon crown and on the 5W and 7W models, rails on the sole for improved turf interaction. Also comes with an adjustable hosel for a customized ballflight.
Cobra LTDx Max
We tested: 15.5°, 18.5°, 22.5°
Our take: There's something reassuring about a wood that has draw bias—we feel like it's easier to swing hard and hit bombs from the fairway. True to the case, the LTDx Max is in fact the easiest of the LTDx line to wield and produces long shots off the tee and fairway—without needing to launch the ball sky high into the air. Our favourite loft is the 18.5, which fills that goldilocks zone between the driver and hybrid, with a dependable launch and spin.
Cobra LTDx Max fairway wood
The LTDx MAX Fairway features the distance and speed performance of the LTDx™ model with a draw weight added for enhanced slice correction.
The details: It's virtually identical to the standard LTDx fairway wood, but comes with draw weight added to the heel, making it easier to square the clubface at impact. Inside, the PWR-COR tech adds weight low and to the front for a low-spin/mid-launch trajectory, and H.O.T. (Highly Optimized Topology) Face Tech that utilizes an AI and machine learning design for increased ballspeed across more points on the clubface. Comes with sole rails in the 5W and 7W models and an adjustable hosel for ballflight customisation.
Cobra LTDx LS
We tested: 14.5°, 18.5°
Our take: It's our favourite Cobra fairway wood this year. We found it to be forgiving, easy to hit and workable—which for the better player is the holy trinity when it comes to a fairway wood. It's long too, thanks to driver-like technologies that boost ballspeed for longer shots both off the tee and from the fairway. It's not going to produce high launches off the rack, but with a few tweaks to the hosel configuration or with a higher-lofted model, it's top notch.
Cobra LTDx LS fairway wood
The LTDx LS ("Low Spin") Fairway is designed for tour players and better amateurs seeking low spin and workable ball flights.
The details: It's akin to the LTDx in terms of forgiveness and distance, but with a slightly lower launch and a little less spin, it's more workable. Comes with a lightweight carbon crown and a multi-material PWR-COR weighting system that places weight lower and closer to the face for lower spin while retaining a mid-high launch for maximum distance.  An adjustable hosel enables for a customized ballflight.
Cobra Air-X
We tested: 16°, 20°, 23°
Our take: True to their forgiving reputation, Cobra's Air-X fairway woods impressed our testers with the ease in which they got balls airborne. The lightweight design helped slower swingers produce more speed while a forgiving face and offset hosel minimized banana balls.
Cobra Air-X fairway wood
The AIR-X fairways feature lightweight designs, offset, heel weighting and an ultra low profile for our easiest to swing, straightest, and highest launching fairways yet.
The details: Building on prior weight-saving innovations, Cobra shaved additional ballast by shifting to a lighter shaft and grip, as well as lighter carbon fiber in the crown. Heel and back weighting are meant to promote stability and a draw bias, while an offset hosel is aimed at slice-reduction.
Mizuno ST-Z
We tested: ST-Z: 15°, 18°
Our take: Great looks aside (seriously, these are slick), the ST-Z produce shots that players with mid-to-faster swingspeeds will appreciate — stable ballflights with low spin. What we really like in addition to the tour-inspired look at address is how they sound and feel at impact; it's the perfect combination of a soft-yet-firm feel and a very satisfying "thwoop" at impact. Shots seem to fly with a flat trajectory — just what better players want.
Mizuno ST-Z fairway wood
A throwback profile with curves for the purist and performance for the pragmatist. Mizuno's 3rd generation MAS1C face is Mizuno's most powerful to date. With adjustable hosel in both 3- and 5-woods.
The details: Comes with a CORTECH multi-face thickness clubface and a composite crown for a lowered CG and high MOI performance. The adjustable hosel enables for custom ballflight optimization to best take advantage of the lowered spin rates this wood provides.
Ping G425
We tested: G425 Max: 14.5°, 17.5°, 20.5°, 23.5°; G425 LST: 14.5°; G425 SFT: 16°, 19°, 22°
Our take: Ever on the lookout for even the smallest upgrades—that's what engineers do, and Ping is a proudly engineering-centric company—the G425 fairway woods and hybrids had their Turbulator crown alignment aids switched out for three alignment dots. This minor tweak drew major props from testers. Of course, proper aim is only half the battle with fairway woods; testers were at least as impressed with the low-profile design's help in getting shots airborne without struggle.
Ping G425 Max fairway wood
In the G425 fairway woods, Facewrap Technology and Spinsistency combine to deliver more distance and spin predictability while ensuring proper gapping throughout a golfer's bag. The fairway woods are also available in LST (Low Spin Technology) and SFT (Straight Flight Technology).
The details: It's nice when marketing folks come up with a name that succinctly and accurately describes technology, so kudos to Ping's team for "Facewrap." Just like it sounds, the G425's face wraps around the crown and sole in order to amp up ball speed and launch. Ping also upped face curvature, in large part to minimize the effects of a low miss. ("Facecurve," anyone? Ping, let's talk.) To address different golfers' different needs, like lower spin or draw bias, tungsten weights reside in different, strategic spots on the soles of the Max, LST and SFT.
PXG 0211
We tested: 15°, 18°, 21°
Our take: Hitting bombs isn't exclusive to the tee box anymore, thanks to the technology packed into the PXG 0211 fairway woods. These clubs look good AND feel good, making them among the best candidates for a driver alternative on the market.
PXG 0211 fairway wood
With features including a high-strength stainless-steel clubface, a hybrid crown, honeycomb TPE insert, an adjustable hosel and railed sole geometry, the weight-forward design of each wood helps create a low-spin ballflight for a boost in ball speed and overall distance.
The details: These woods come with a "weight-forward" design, which helps create a low-spin ballflight for a boost in ball speed and overall distance. The 0211 woods also include a high-strength stainless-steel clubface, a hybrid crown, honeycomb TPE insert, an adjustable hosel and railed sole geometry.
PXG 0211 Z
We tested: 16°
Our take: With the 0211 Z fairway woods, you won't ever have to worry about elevating the ball when hitting off the ground. This beginner-friendly club is made for players with slower swing speeds, but with the look of a tour-level set. The 0211 Z will produce scratch-level shots, but it doesn't require a scratch-level swing.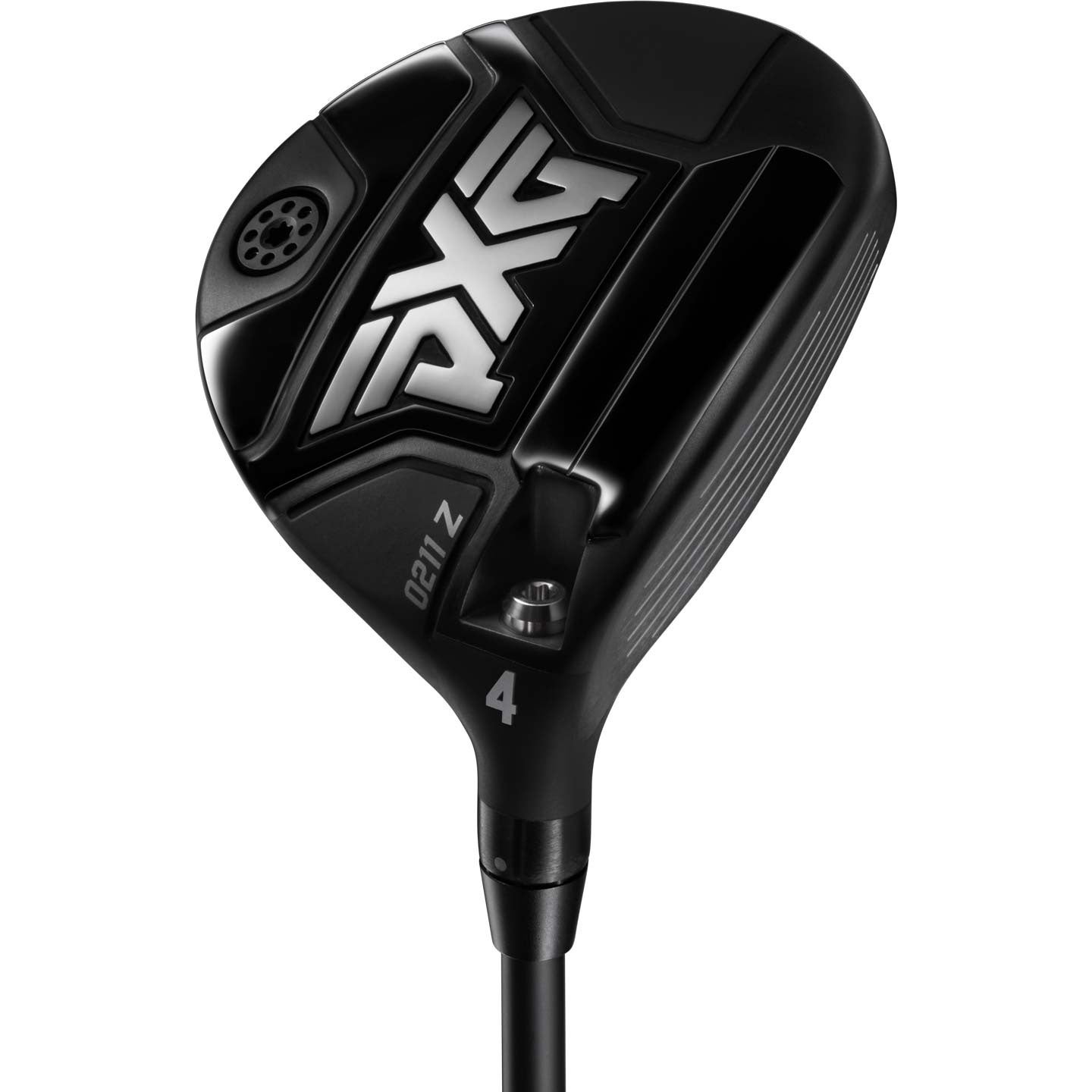 PXG 0211 Z wood set
The PXG 0211 Z Fairway makes it easy to get the ball in the air. With a low-profile head shape and a squared face design these clubs deliver maximum ball speed even on mishits.
The details: The 0211 Z fairway wood, like the driver, is made with a crown that shifts weight low for higher launch. It also has a tall face, made of a Ti412 material, to increase speed — even on mishits.
PXG 0341 X
We tested: 13°, 15°, 18°, 21°
Our take: The 0341 X fairway wood builds on the tech that was found in the 0341 proto fairway woods from last year. That tech includes a low-profile sole design, a carbon-fiber crown and customizable weights for the finely tuned trajectory of your choice. Coupled with the matte finish and piercing ball flight, and you've got a winner in the 0341 X.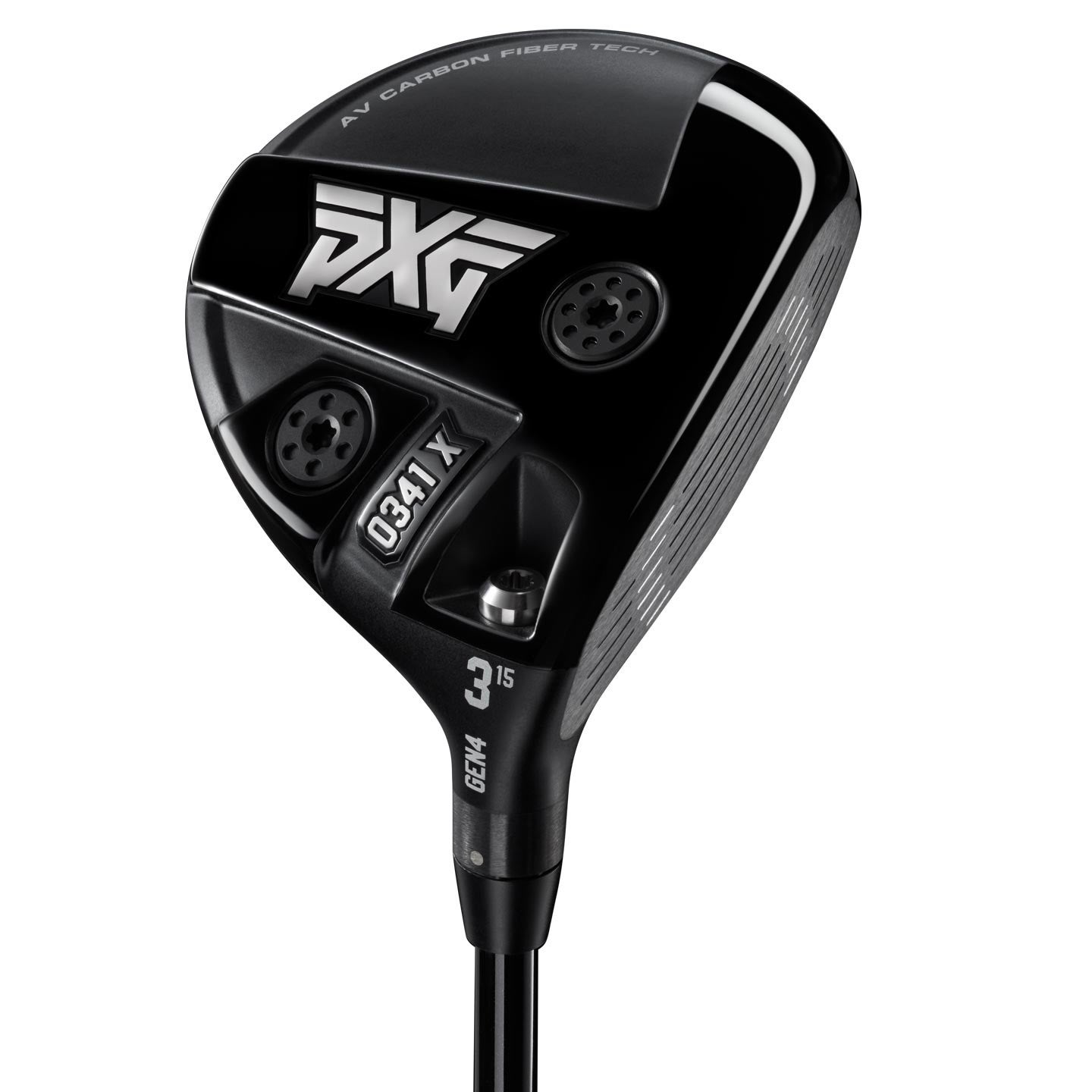 PXG 0341 X fairway wood
The 0341 X fairway wood delivers faster ball speeds and an unmatched sound and feel. The 0341 X is a spin club engineered with a high-speed thin face, carbon fiber crown, honeycomb TPE insert, weight-forward design and Precision Weighting System.
The details: The 0341 X Proto comes with two ports for PXG's adjustable Precision Weighting technology, an adjustable hosel, a low CG configuration, a multi-level and variable thickness carbon-fiber crown, and a honeycomb TPE insert. As a sum of its parts, you can expect faster ball speeds and distance levels previously reserved for only the longest bombers.
PXG 0341 XF
We tested: 16°, 19°, 22°
Our take: The 0341 XF fairway wood is for the player who wants all the performance benefits of the 0341 X model, but needs a bit more forgiveness on mishits. Players' eyes will be drawn to the silver-toned crown at address, as well as the larger head designed to make the face more stable on mishits. You should have no trouble keeping it in play with these sticks.
PXG 0341 XF fairway wood
PXG 0341 XF GEN4 Fairways deliver critical forgiveness on your mishits for more distance, accuracy, and fun on the course. Designed with a tall, large face and Railed Sole Geometry, these Fairways are designed to help you keep it on line and in play.
The details: Much like the 0341 X model, the XF is built for adjustability with two Precision Weighting Technology ports and an adjustable hosel. However, the XF has a larger, taller face which positions the CGI lower and further back to promote a higher launch and mid-spin performance.
Srixon ZX
We tested: 13.5°, 15°, 18°, 21°
Our take: We like these fairway woods as driver replacements, but they've proven themselves just as easy to hit off the grass, making it feasible you could ditch both your current driver and fairway wood in favour of one of these. Shots hit on the sweetspot go a mile, and off-centre hits don't stray very far offline thanks to a low-spin ballflight. They don't' garner enough attention as they deserve—we're hoping to change that.
Srixon ZX fairway wood
Designed to give you confidence from the deck and the tee box alike, the ZX Fairway Woods feature the Cannon Sole for an optimal centre of gravity plus increased ball speed. Your favourite par 5 has been warned.
The details: The Rebound Frame features a mix of rigid and flexible zones that combine to send energy back into the ball at impact for added distance. The carbon crown and Crown Step design work together to push the the CG lower and the MOI higher for increased forgiveness and added consistency.
TaylorMade Stealth
We tested: 15°, 16.5°, 18°, 21°, 24°
Our take: If you're looking for a more traditional blend of distance and workability in a fairway wood, the Stealth is worth a hand look. Testers gave the towering launch high marks during testing and noted that toe shots tended to go almost as far as balls hit out of the middle. "I haven't had a second-shot club for a while, but this one fits the bill," said one tester. "The launch makes me feel as if the ball is going to stop on re-entry. The black crown is a nice look, too. Very covert."
TaylorMade Stealth fairway wood
Built from carbon DNA, the Stealth fairway creates high MOI performance and precision playability with advanced multi-material construction.
The details: With a larger overall profile, the 190cc Stealth features a 3D carbon crown that made it possible for engineers to place more weight low and deep in the head to increase launch and bolster forgiveness. A C300 Twist Face is geared to ramp up speed, while TaylorMade's V Steel sole is designed to promote versatility with reduced drag when hitting off the turf.
TaylorMade Stealth Plus
We tested: 13.5°, 15°, 19°
Our take: Take one tester's word for it: the fully loaded Stealth Plus delivers impressive distance. "This face is just so hot," the tester said after pummelling another ball. "The spin is probably on the lower end for my game, but I could basically replace my driver with it. I'm serious." With a driver-like face construction, we believe it.
TaylorMade Stealth Plus fairway wood
Stealth Plus is designed to push the limits of ball speed and shot making by combining a new titanium face and compact shape.
The details: The 175cc Stealth Plus is built around the same ZATECH Titanium face found on the SIM and SIM2. The ultra-thin, resilient material maintains a high level of ductility while still promoting fast ball speeds across the entire structure. An 80-gram V Steel sole helps improve the overall forgiveness — Stealth Plus boasts the lowest CG even in an adjustable fairway wood — of the head without sacrificing turf interaction.
Titleist TSi1/2/3
We tested: TSi1: 15˚, 18˚, 20˚, 23˚; TSi2: 13.5˚, 15˚, 16.5˚, 18˚, 21˚; TSi3: 13.5˚, 15˚, 16.5˚, 18˚
Our take: If you're looking to snag a glimpse of the TSi fairway wood line-up, our advice is simple: don't blink. Last year's cropping of Titleist metalwoods (the TSi2 and TSi3) earned high marks for both playability and ballspeed — a trend continued with the release of the TSi1 for slower-swinging players. For ease of use both off the tee and off the deck, few woods tested better than the TSi. Perhaps some of that is due to Titleist's decision to emphasize versatility, providing golfers with a glimmering variety of adjustable options to tailor each TSi wood to your game. At any rate, the TSi is a speed and feel superstar, even a year later.
Titleist TSi1 fairway wood
The TSi1 fairway metals are a true lightweight setup–almost 50 grams lighter than standard fairway metals
The details: Titleist has delivered the goods with its fairway woods for years, fusing one of the industry's easiest-to-play designs with the latest and greatest in distance-boosting tech. With the TSi, Titleist's focus centred on adaptability. With three different head options, there's a TSi for every type of player (the TSi1, a lightweight option for slower swingers; TSi2, which promises max launch and distance; and TSi3, a do-it-all option for high-speed players). Each model features a revamped Active Recoil Channel for better ballspeeds and face flexibility, an adjustable hosel and variable face thickness. For even more workability, the TSi3 features an adjustable CG track.
Tour Edge Hot Launch C522
We tested: 15°, 17°, 19°, 22°
Our take: Fairway woods are sometimes an overlooked category, but they really shouldn't be. A good fairway wood is a lifesaver when the driver runs awry or when you need to go long on a par-5 from the fairway. Tour Edge's no-nonsense design aesthetic works well for the C522, proving that sometimes a cleaner/simpler design is better than one that will leave you guessing whether or not you have it dialled in for your game. The ball pops off the face, flies high and lands soft. That's the fairway wood trifecta.
Tour Edge Hot Launch C522 fairway wood
This Competition Spec Hot Launch C522 fairway metal is for the player seeking optimal launch and spin rates with minimal offset designs, while still enjoying the benefits of extreme ease of use.
The details: The popular Diamond Face 2.0 acts as a mini-trampoline for a boost in ballspeed and added accuracy, especially when shots are hit away from the sweetspot. Additional features include A.R.C. Acoustic Engineering for better sound and feel and a rear sole weight for a lower and deeper CG.
Tour Edge Hot Launch E522
We tested: 16°, 20°, 23°, 25°, 27°
Our take: It's new, but we look at the E522 as something of a throwback to when manufacturers built fairway woods to first and foremost get the ball airborne and, second, to help lessen a slice. These woods do just that and are as player-friendly as any we've tried this year, with high ballflights and nary a slice after several hits.
Tour Edge Hot Launch E522 fairway wood
The Extreme Game Improvement Hot Launch E522 fairway metal offers the game-changing Houdini Sole in conjunction with a super-shallow face, a slice-fighting offset design and heel weighting for added draw bias.
The details: Comes with Tour Edge's Diamond Face 2.0 for more springiness and greater ballspeed across more points on the clubface, a shallow face design to make it easy to strike high-launching shots and, most recognizably, an offset hosel design and internal heel weighting to counteract slicing.
Tour Edge Exotics E722
We tested: 13°, 15°, 16.5°, 18°, 21°
Our take: The Exotics E722 comes loaded with technology to help hit the ball farther with extreme forgiveness, making it a venerable driver alternative off the tee and a long bomber from the fairway. It comes with much of the same technologies found in the driver bearing the same name, which in our opinion makes this fairway wood as close to being a driver as it can be without being one. It's super long and a blast to hit off the turf or tee.
Tour Edge Exotics E722 fairway wood
This ultra-premium fairway metal is loaded with tech for extreme forgiveness and distance and features the revolutionary RyzerSole Technology while bringing the ultimate in power, feel and forgiveness.
The details: Comes with a RyzerSole rail and added weight from the leading edge to the trailing edge to produce a lower CG for a higher launch and an optimized spin rate. Additional technologies include an adjustable backweight and a Maraging Steel/Diamond Face VFT clubface that increases the springiness for a more explosive launch across more surface area. Also comes with a carbon crown for further CG optimization and A.R.C. Acoustic Engineering for improved sound and feel.
Tour Edge Exotics Pro 721
We tested: 13°, 15°, 16.5°
Our take: The Pro 721 borrows practically all the technology you'll find in the Pro 721 driver, making it a stout driver alternative off the tee. It's really long—so much that we suspect you won't miss carrying a driver. From the fairway it's sneakily forgiving, with shotshapes that fly with a flat/piercing trajectory. Put it this way—it's a player's wood but can easily be wielded by an average golfer who maybe wants a wood that doesn't produce spinney shots as much as some other fairway woods do.
Tour Edge Exotics Pro 721 fairway wood
The straight-from-the-tour-van Exotics Pro 721 fairway wood is a limited-edition small batch production of three lofts that is being offered to the public in only 1,000 total pieces.
The details: The Pro 721 comes in a traditional pear shape that better players like because it tends to enable more shotmaking capabilities. Further technologies include a Ridgeback chassis and Dual Carbon Wings for an optimal CG placement low and forward in the clubhead, resulting in a more penetrating launch with lower spin. It also comes with a Flight Tuning System, which includes two weights located on the heel and toe for a customized ballflight. Lastly, the acoustics are enhanced via internal sound diffusion panels for a crisp sound at impact.
Wilson D9
We tested: 13.5, 15 and 18 degrees
Our take: Don't be fooled by the clean look from address on these Wilson D9 fairway woods. They pack a punch, and helped our testers hit balls from the turf that went long, high and straight. Consider these a sleeper selection that keeps up with top performers in the category.
Wilson D9 fairway wood
Variable Face Technology virtually guarantees high ball speeds and high launch angles, even on off-centre hits. Milled from premium Carpenter Custom 455 steel, the face is thin, hot and optimized to deliver more feel and more distance performance.
The details: With the help of its Advisory Staff members, Wilson crafted tour-like head shapes that optimize weight for ball speed. They also have thin milled faces made from Carpenter Custom 455 steel that have variable thickness across the face to boost speed and launch on off-centre strikes.
Wilson Launch Pad
We tested: 15 and 18 degrees
Our take: Is there anything more frustrating than hitting a low slice with a fairway wood that doesn't get above head height? The Wilson Launch Pad fairways repeatedly helped our low-speed testers achieve a high-launching draw, even on shots hit off the deck.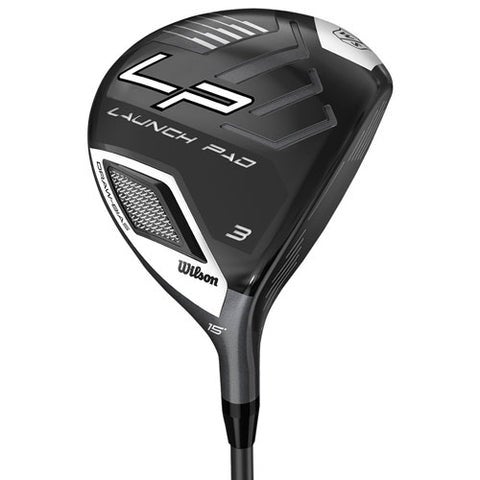 Wilson Launch Pad fairway wood
The Launch Pad fairway woods are designed with a moderate hosel offset. This promotes a closed face at impact and neutralizes any fade bias for more control and straighter shots.
The details: Wilson's slice-busting fairway wood is built with moderate offset, 13 grams in the heel section of the head, and an upright lie angle to make release the club face significantly easier. Also, the faces are made from Carpenter Custom 455 steel faces to boost ball speed, and the lightweight heads are made to create more swing speed.
XXIO X
We tested: 15°, 18°, 20°
Our take: It's easily among the best-looking fairway woods we've seen lately, with striking graphics and matte-black finishes to make it look tough and aggressive while also still elegantly premium. Shots hit were exactly as expected from a lightweight design: the ball flew high with ample spin, but it didn't get too crazy in terms of control. We felt it was the ideal blend of feel and power with a hint of shotmaking versatility. And, since it is lightweight, it was easy to take on a few mph's of extra clubhead speed.
XXIO X fairway wood
XXIO X fairway woods aren't just light as air — they harness it. With enhanced aerodynamics, airflow bends to your will as you swing, guiding you to effortless speed and purer strikes.
The details: A cupface design for added power and more forgiveness on off-centre strikes combined with a uniquely shaped weight pad called a "Cannon Sole" that creates space to make the aforementioned clubface even bigger, boosting speed and overall distance.
XXIO 12
We tested: 15°, 16.5°, 18°, 20°, 23°
Our take: If you're just going by looks alone, the 12 from XXIO is awesome to look at, with smooth contours juxtaposed by some aggress design aesthetics and markings. Upon hitting one, it's much the same experience — easy to swing while producing high, quick-launching shots from both off the tee and fairway.
XXIO 12 fairway wood
The XXIO 12 fairway woods are remarkably lightweight and offer a specialized suite of technologies that amplify performance for the moderate swing speed golfer. They boast exceptional look, sound and feel.
The details: The 12 melds XXIO's ActivWing-Aerodynamic Control technology that enhances aerodynamics during the critical first half of the downswing with a Rebound Frame for more power on solid and off-centre hits. It comes in two colours to choose from: red or navy.