ClubTest 2022: 27 hot new putters tested and reviewed
Bettinardi Studio Stock 2021
We tested: Bettinardi Studio Stock 7, 17, 18, 28, 28 CTR, 28 Armlock
Our take: The Studio Stock 2021 putters are exactly what most golfers look for in a high-end putter; they're sleek, simple, come in a variety of head shapes to suit different preferences, and they have a new roll-enhancing putter face to help with speed control.
Bettinardi Studio Stock 28 putter
One of the most sought-after head shapes on the PGA Tour and LPGA Tour, the Studio Stock 28 returns to the 2021-22 lineup as the classic wide-body, near face-balanced blade with subtle, refined contours for the player looking for a professional-level model with a sleek design.
The details: Bettinardi's newest iteration of Studio Stock putters comes with Roll Control Face Milling that's engineered get the ball rolling faster off the face. A faster roll means a smoother roll, making speed control and hitting your line easier. The putters also come with a Diamond Blast finish for a clean look.
Bettinardi Queen B
We tested: Bettinardi Queen B 6, Queen B 11 and Queen B 12
Our take: Bettinardi's Queen B putters combine high-end premium manufacturing with next-level artistry to create for a putter that looks, feel and performs at the top-end of the market. Our testers were blown away by the bag appeal of the putters and the feel off the faces.
Bettinardi Queen B 6 putter
Elegance meets performance as the Queen B 6 makes its return to the eminent Queen B series lineup for 2021-22. The beautifully re-engineered QB6 is a classic, wide-body blade with performance-driven features for the player seeking the perfect crossover between blade and mallet.
The details: The three unique head shapes in the Queen B series are designed with flowing contours and a new Rose Gold PVD finish. They look ready for a trophy case, but are made to perform. For a better roll and feel, the faces have a micro honeycomb milled face, and the heads are made from soft carbon steel.
Bettinardi Inovai 7.0
We tested: Bettinardi Inovai 7.0 Spud Neck, Inovai 7.0 Center Shaft and Inovai 7.0 Slant Neck
Our take: testers found the unique shaping and alignment features of the Inovai 7.0 incredibly easy to align, and they found the sound to be pleasing at impact. "It sounds muted with the perfect amount of ting, and it's easy to align. This one just goes in the hole."
Bettinardi Inovai 7.0 putter
Designed to instill maximum confidence while putting, the INOVAI 7.0 Spud is re-introduced to feature a 303 Stainless Steel front piece for solid feel, and a 6061 Military Grade Aluminum body that has been hollowed out for a perfect balance of weight and stability.
The details: Bettinardi achieves a super high level of forgiveness with the Inovai 7.0 putters by combining heavy 303 stainless steel with lightweight 6061 aluminium, distributing weight in a way that reduces twisting at impact. The vibrant blue colourway comes from its anodized Cobalt Blue finish, and the white sightline complements the two-tone crowns to create a T-shaped alignment feature.
Cleveland Huntington Beach Soft & Soft Premier
We tested: Huntington Beach Soft & Soft Premier 3, 4, 8, 10.5, 10.5C, 11, 11S, 14
Our take: Named after where Cleveland Golf is based, the Huntington Beach putter have quietly been among our favorite models and have been for the last few years. They feel as good as they look, with specific models designed to accommodate differing putting strokes. There are blades, semi-mallets and mallets available and they don't just come in Satin—the Soft Premier line is identical, with each model coming in a sleek Gray Satin PVD finish.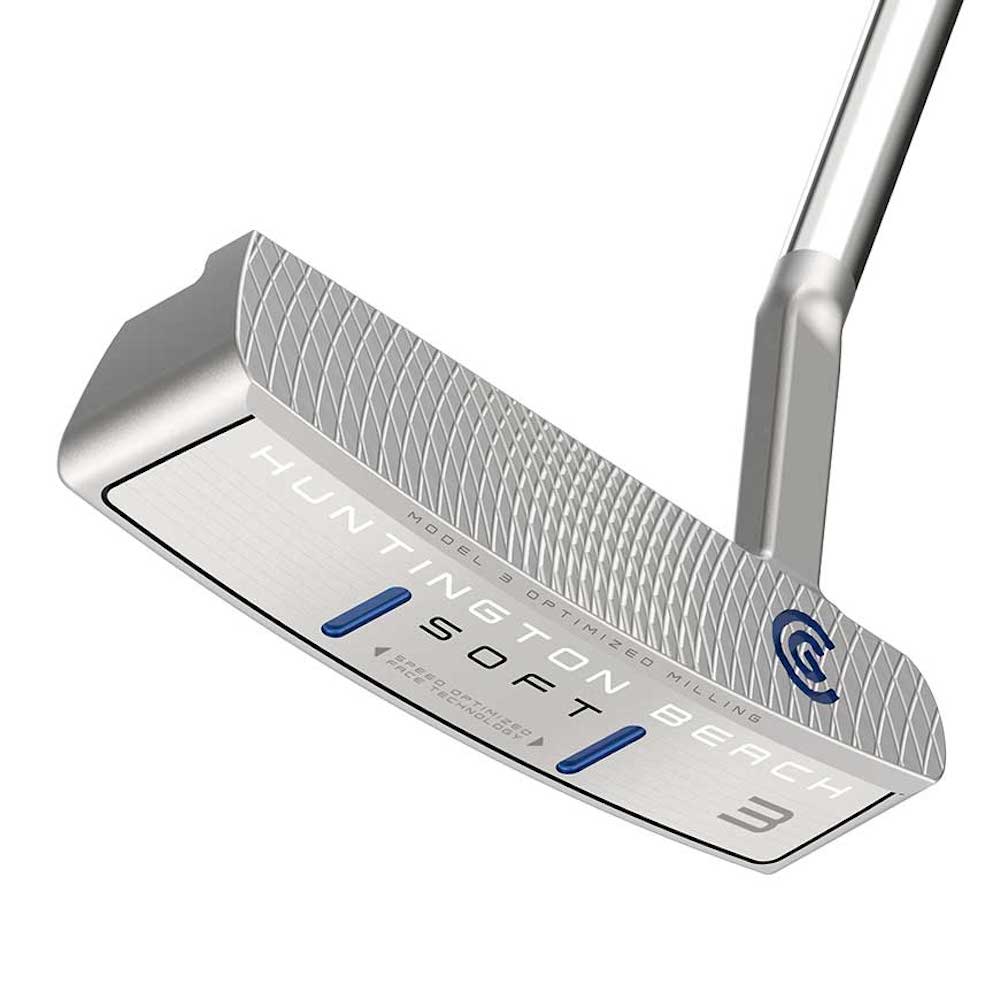 Cleveland Huntington Beach Soft Premier 8 putter
A classic slant neck blade design, the Huntington Beach SOFT 3 putter delivers a better putting performance thanks to a softer feel and consistent roll.
The details: Each putter in the Huntington Beach Soft and Soft Premier lines comes with Speed Optimized face Technology which normalizes speed across the entire face of the putter for a consistent ballspeed and end-over-end roll. The face is precision CNC-milled for a pure roll and soft feel across the entire face.
Cleveland Frontline
We tested: Frontline 2.0, 4.0, 8.0, 10.5, Elevado, Cero, Iso
Our take: We're used to seeing putters with weight low and to the back of the putterhead, but Cleveland bucked that trend and opted to move weight forward and towards the heel and toe for a collection of putters designed to improve consistency and alignment. As far as feel is concerned, these putters are top-notch and swing very smoothly and come with a satisfying pop at impact. Good to see the Speed Optimized Face technology is on these putters as well.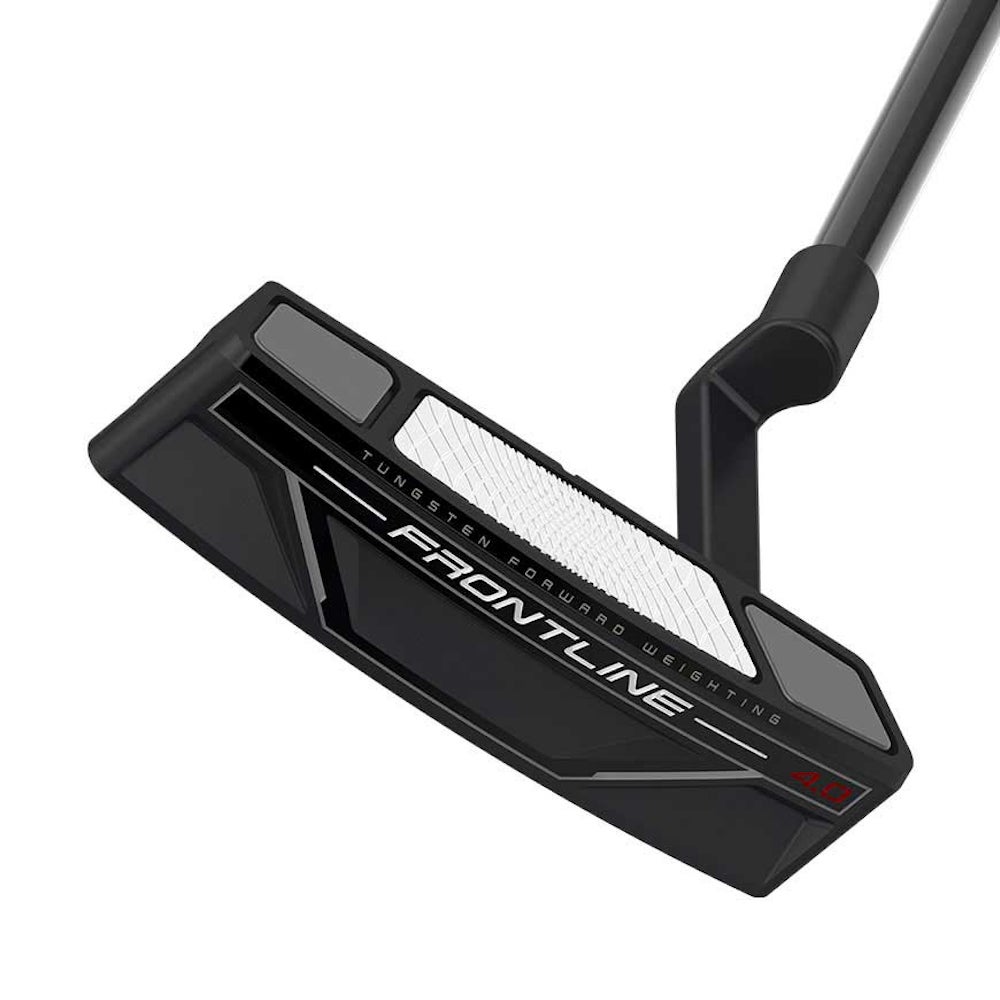 Cleveland Frontline 4.0 putter
A classic plumber's neck blade design, the Frontline 4.0 putter features Tungsten Forward Weighting and Speed Optimized Face Technology for more consistent putting and distance performance.
The details: Comes with two tungsten weights located forward on the heel and toe (you can see them on the putter face) to enhance weighting and improve distance control. The Speed Optimized Face Technology normalizes ballspeed across more of the putterface and the 2135 alignment technology helps you achieve perfect alignment no matter where you place your eyes at address (either inside, on or outside the target line.)
Cobra King SuperNova
We tested: Cobra's King SuperNova putter
Our take: Shaped like a large fang, the SuperNova looked plenty sharp to our testers. One likened the design to a "modern mallet," while another compared the alignment aid to train tracks that help keep the club on path through the stroke. The multi-material construction of the face also produced distinct acoustics.  "Almost like aluminium," a tester said. "The same type of sound as a driver."
Cobra King SuperNova putter
The KING Supernova putter features an oversize fang shape, and a multi-material construction utilizing a 3D printed nylon insert, aluminium, tungsten weights, and SIK Face Technology to create the perfect balance of stability and roll accuracy for more consistency on every putt.
The details: Produced in partnership with Hewlett Packard, the SuperNova features lightweight 3D-printed nylon lattice "cartridges" that help dampen vibrations at impact. Their positioning also helps shift weight away from the center of the head, where it's unwanted, and toward other sections where it can boost forgiveness. Flanking the "cartridges" are steel bodies, forged aluminium crowns and tungsten back weights to promote stability. The SuperNova's face is further enhanced by aluminium inserts from SIK Golf (the company that makes Bryson DeChambeau's putters), which are set at descending angles to yield consistent launch angles and smooth roll.
Cobra King Nova
We tested: Cobra's King Nova putter
Our take: Different strokes for different folks. This fanged-shaped putter comes in two different hosel types, one for up-and-back putters, the other for players with a slight arc in their strokes.
Cobra King Nova putter
The KING Nova putter features a fang shape with a single bend hosel that is suitable for players with a straight back and straight through putting stroke seeking enhanced stability.
The details: Though Cobra says it was targeting "traditionalists" with the King Nova, it poured plenty of tech into this putter. Along with its fang shape and stainless-steel body, it features an adjustable weight system and SIK Face Technology (aluminium inserts set at descending angles) to deliver stability and consistency with a soft feel. Available in a single bend shaft, for straight through putters, or a short slant shaft for strokes with a slight arc.
Cobra King StingRay
We tested: Cobra's King StingRay putter
Our take: Consistency. We like it our mashed potatoes. And we love it in our putters. The mallet-shaped StingRay checked that box for our testers, who praised the balance of its weighting and the repeatability of its roll. "It's not just a different head shape," one tester said. "It has a more traditional sound and feel on a modern head." Gushed another: "I could put in the bag this afternoon."
Cobra King StingRay putter
The KING Stingray putter features an oversized mallet shape with a single bend hosel that is suitable for players with a straight back and straight through putting stroke seeking maximum stability and forgiveness.
The details: A traditional mallet-shaped putter, the StingRay combines a throwback look with contemporary features, including adjustable weighting for fine-tuned feel and stability, and aluminium face inserts (the same SIK Golf technology used in Bryson DeChambeau's putter) set at descending lofts to improve the consistency of roll and launch. Cobra also offers the King StingRay-40, with an oversized mallet shape. Both are available in slant neck or straight neck.
Cobra King Agera
We tested: Cobra's King Agera putter
Our take: A gentle rock, a consistent roll. Billed by Cobra as the putter in its stable with the highest MOI (moment of inertia), the 3-D printed Agera impressed Golf testers with its smoothness through the stroke and its stability at impact.
Cobra King Agera putter
The KING Agera putter is our highest MOI putter at 7540. It features an oversize mallet shape, and a multi-material construction utilizing a 3D printed nylon insert, aluminium, tungsten weights, and SIK Face Technology to create our most stable and forgiving putter in the 3D Printed family.
The details: The putter that Cobra says has the "most forgiving and stable shape" of any in the company's stable, the Agera boasts a host of bells and whistles: multi-material construction with a 3-D printed nylon insert for consistency and feel; tungsten weighting for balance; and aluminium face inserts (by SIK Golf, the company that makes Bryson DeChambeau's putters) set at descending angles to ensure a consistent launch angle and smooth roll, regardless of your stroke.  Available in a 37.5-inch armlock configuration for players who prefer a taller posture at address.
Cobra King GrandSport-35
We tested: Cobra's King GrandSport-35 putter
Our take: Similar technology. Different shape. The KinGrandSport-35 appealed to testers looking for stability, consistency and feel, all within the body of a more classically shaped blade.
Cobra King GrandSport-35 putter
The KING Grandsport features an oversized blade shape, and a multi-material construction utilizing a 3D printed lattice cartridge, a forged aluminium crown, tungsten weighting, and SIK FaceTechnology to deliver unmatched stability and consistency on every putt.
The details: With the King GrandSport-35, Cobra has packaged many of the same features from its other 3-D printed putters into what it categorizes as an oversized blade. That includes tungsten weighting, an aluminium crown and face inserts set at descending angles for added stability and consistency. The GrandSport-35 is so named because it has 35 degrees of toe hang. Available in standard or armlock lengths.
Cobra King Vintage Sport
We tested: Cobra's Vintage Sport-60 putter
Our take: Go big or go home. A lot of success in putting comes down to mindset. The King Vintage Sport-60 appeals to golfers who draw confidence from the solid look and feel of an oversized blade.
Cobra King Vintage Sport-60 putter
The KING Sport-60 features a classic blade shape with a flow neck hosel that is suitable for players with significant arc putting strokes seeking maximum control on long and short putts.
The details: Designed for golfers with straight back, straight through strokes, the King Vintage Widesport is an oversized blade with a stainless-steel body and an aluminium face with descending-loft inserts that promote consistency and accuracy. A single sightline is meant to make alignment simple, while adjustable weights are for dialling in feel and stability.
Edel EAS
We tested: Edel EAS
Our take: Most testers are enamoured with the overall look or stability of a head, but all anyone wanted to talk about as they rolled putts with EAS was the interchangeable alignment plate. "It's a genius design," said a tester. "You can change them out and not have to spring for another putter, just because you don't like the alignment aids." Genius, indeed. With nine possible alignment line plate options, it's possible to pick up a few different alignment plates and not have to break the bank.
Edel EAS putters
The latest innovation in Torque Balanced Technology is here. Now with more head weight options to optimize your speed control, and interchangeable alignment options to dial in your aim.
The details: Edel's Torque Balanced technology is designed to reduce unwanted twisting, improving the chances of squaring the face up at impact. The technology moves weight from the toe, creating a "toe-up" balance point versus a more common toe-down or face balanced design. By containing the weight within the sole of the putter head, Edel can increase stability without negatively altering the look at address.
Haywood Signature
We tested: Haywood's Signature putter
Our take: The Signature putter is Haywood's answer for golfers who need an Anser-style blade in their life. "It feels like a knife, in a good way," said one tester. "It's right in that sweetspot between soft and firm with lots of feedback. I'd say it's a good-player's putter. It feels like you don't have much room for error for a bad stroke, but when you hit it well, it sounds like a song."
Haywood Signature putter
Built from a solid block of 1020 Carbon Steel and CNC milled to perfection, the signature putter is designed using a dual top-line to allow you to align perfectly square at address and includes dual-bottom weighting.
The details: The Signature putter is CNC milled from a solid block of 1020 carbon steel with a face milling pattern in the centre section that's designed to produce a pleasing feel at impact. Adjustable heel-toe weights make it a cinch to dial-in the head weight for your preferences. And if you rely on alignment aids to zero-in on the target, a single or dual topline is available to help get the putter square at address.
Mizuno M-Craft
We tested: M-Craft I, II, III, IV, V, VI
Our take: The M.Craft line keeps expanding with new iterations, but the high-level of craftsmanship and attention to detail is still paramount and has been since the first introduction of the series. Each M.Craft putter is milled and forged to exacting specifications, and the result is a selection of putters that are exquisitely balanced with a smooth/soft feel at impact. They're on the heavier side, but we think it's always better to go heavy than light to help keep those micro jitters in your putting stroke to a minimum. There are three finishes available, with our clear favourite being the bold Blue ION.
Mizuno M-Craft V putter
Forged from premium 1025 mild carbon steel, then CNC-milled to create the most precise shape and alignment. With three initial classic shapes in three striking finishes and an additional weight kit to adjust to a variety of putting conditions.
The details: Each M.Craft putter is both forged and milled of 1025 mild carbon steel and the deep face milling lends a softer feel and quick end-over-end roll. Comes with adjustable weights that go in the heel and toe for a finely tuned fit and is available in a variety of blade and mallet shapes to accommodate any type of putting stroke. The three finishes available are the aforementioned Blue ION, Black ION and a Classic White Satin.
Ping 2021
We tested: Anser, Anser 2, Anser 4, Harwood, Kushin 4, CA 70, DS 72, Tyne 4, Fetch, Oslo H, Tyne C
Our take: Ping's new 2021 putters are packed with tech on the face to help golfers roll the ball better, but from address "they're clean and sharp looking," as a tester described. White toplines against black chrome finishes proved to be decipherable alignment aids as well. On the feel scale, Ping's new face designs registered "marshmallow soft, in a good way," according to one tester.
Ping 2021 Anser putter
Consistency and predictability in both feel and performance ensure these eye-catching 2021 PING Putters improve results on the greens. They achieve new levels of forgiveness relying on multi-material construction and a soft, responsive new dual-durometer insert across 11 blades, mid-mallets and mallets.
The details: To deliver the soft feel our tester enjoyed, the 2021 line is built using dual-durometer Pebax face inserts. The putters also feature weights in the toe and heel sections that increase forgiveness, and they have face grooves to help with speed consistency. While there's a whopping 11 head models in the lineup, two notable designs stick out: the Cameron Champ–inspired Tyne 4 and the Viktor Hovland–inspired DS 72 — each developed through Ping's impressive Putting Lab Design (PLD) program.
PXG 0211
We tested: Bayonet, Hellcat, Clydesdale, V-42, Lightning
Our take: PXGs 0211 putter line has the goal of getting you aligned properly on the greens, and they do so with their "runway reticle." "The winged look isn't just for looks," one tester remarked. "You can definitely tell it helps the putterhead stay balanced." Put any of the five 0211 models in the bag and you'll instantly have an easier time with aim and alignment on the greens.
PXG 0211 putters
This stunning lineup includes five all-new putters: V-42, Bayonet, Hellcat, Clydesdale, and Lightning. Each 0211 Putter features PXG's bold Runway Reticle™ alignment aid and patented Pyramid Face Pattern technology for exceptional accuracy and consistency with every putt, as well as an outstanding sound and feel.
The details: The 0211 lineup comes in five different models with different head shapes and hosel styles, each with the "runaway reticle" alignment and Pyramid Face Pattern technology. And while PXG has been known in the past for providing performance with a high price tag, its 0211 products are made as a more affordable option for golfers with a tighter budget.
PXG Battle Ready
We tested: Blackjack, Blackbird, Gun Boat, One & Done, Bat Attack, Closer, Spitfire, Mustang, Brandon
Our take: No matter your preferences — mallet or blade, plumbers neck or slant hosel — the PXG Battle Ready line has you covered. The series features nine different head shapes and countless other customizable features to make sure you have the exact wand needed to fill it up on the greens.
PXG Battle Ready Blackjack putter
An aerospace-grade aluminium body with high-density tungsten, a large sightline alignment aid and four adjustable sole weights that max out MOI and provide rock-solid stability.
The details: If you're serious about a Battle Ready putter, you can customise everything about the flatstick with their online fitting system. No matter what your preferences, this line has you covered.
Scotty Cameron Phantom
We tested: Scotty Cameron's Phantom putter
Our take: Scotty Cameron might have earned his reputation with blade putters, but he's furthered it with the Phantom X line of mallets. Don't just take our word for it — shortly after release, the Phantom X's large head snuck its way into the bag of major champ Justin Thomas (where it has remained ever since). The Phantom X is a forgiveness favorite, with a high-MOI head helping to provide next-level stability at impact, even on off-center hits. And with the Scotty Cameron name attached, precision and distance control are but foregone conclusions.
Titleist Scotty Cameron Phantom 5.5 putter
Inspired by fast cars and fighter jets, the mid-mallet shape is compact and high-tech with sharp, alignment-promoting angles with soft-sculpted contours that appear to melt into the ground so the putter never appears "stuck" behind the ball.
The details: Control freaks, rejoice! With four different heads and three different shaft types, Scotty Cameron's Phantom X line takes adaptability to the next level. Each individual model provides golfers with slight but noticeable shifts in MOI, face stability and weighting, providing a tailored fit for mallet-lovers of all shapes and sizes. Every model is precision-milled and constructed using stainless steel and aircraft-grade aluminium for improved perimeter weighting.
Scotty Cameron Special Select
We tested: Scotty Cameron's Special Select putters
Our take: For basketballs, there's Spalding. For footballs, there's Wilson. And for putters, there's Scotty. Scotty Cameron's blades and mid-mallets have been golf's gold standard for the better part of three decades, a tradition continued with the Special Select. Simple, elegant, and loaded with feel, this is the preferred putter of golf's best players … and has been for some time.
Titleist Scotty Cameron Special Select putter
Special Select putters are inspired by the professional tours with sleeker profiles and thinner, flatter toplines that deliver confidence and a pleasing look at address preferred by the best players in the world.
The details: Milled from a solid block of 303 signature steel, the Special Select line is crafted for precision. Thinner toplines, refined neck configurations, soft tri-soles and performance-balanced weighting highlight a package built for elite performance. Golfers can pick from eight styles split across two design philosophies: the Newport, Newport 2 and Newport 2.5 blade styles; and Del Mar, Fastback 1.5, Squareback 2, Flowback 5 and Flowback 5.5 mid-mallet models.
TaylorMade Spider GT
We tested: TaylorMade's Spider GT putter
Our take: This isn't the Spider you've come to expect from TaylorMade. The futuristic look, highlighted by a new top plate, allowed some testers to quickly get the face and ball lined up to the target with ease. "I used to play with the Spider, but this is better by a wide margin," said a GOLF tester. "It feels heavy but soft, and the contrast means you can see if the face is open or closed."
TaylorMade Spider GT putter
This is the first Spider to feature an open frame multi-material design. Two steel side wings (90g each) push 82% of the putter's total weight to the perimeter, allowing Spider GT to remain extremely stable on off-centre strikes.
The details: The GT head comes with a lightweight 145-gram top plate made of 6061 aluminium (comes in silver, black, red, and a white/blue women's model) and two 90-gram steel side weights that push 82 percent of the putter's weight towards the perimeter for more stability through the stroke and on off-centre putts. The face is equipped with a Pure Roll2 insert made of aluminium and urethane that helps facilitate a better end-over-end roll and improved ball speed consistency.
TaylorMade Spider GT Rollback
We tested: TaylorMade's Spider GT Rollback putter
Our take: Some testers find a potential gamer in a few putts. For one, in particular, it only took a handful of rolls with the Rollback to notice more consistent contact that ultimately produced more made putts. "It's amazing," said the tester. "I'm just burying putts. It's a winner. Made 4 of 5 from 15 feet right off the bat. The insert feels superior to the other one." The overall two-tone look earned high marks for golfers who rely on alignment aids to get them in the best position at address.
TaylorMade Spider GT Rollback putter
The refined 304 stainless-steel construction of Spider GT Splitback utilizes geometric shaping, sharp lines and advanced perimeter weighting to deliver enhanced stability and precision alignment.
The details: A classic half-moon design with a lightweight aluminium anterior and a heavy tungsten rollbar that wraps around the back for added perimeter weighting and boosted stability. The tri-sole design makes it easy to set the putter down square on the ground, and it's got the longest sightlines of the new Spider models. It comes in either the high-contrast black model with one alignment line or in silver with a triple-line for improved aim.
TaylorMade Spider GT Notchback
We tested: TaylorMade's Spider GT Notchback putters
Our take: We've seen this shape before, and that's not a bad thing. Sometimes it's not necessary to reinvent the wheel. The Notchback shape was well received by testers who didn't necessarily want or need a futuristic profile. "You can tell this is a stable head, but it's done in a way where you don't notice it at address," said a tester. "It's a relatively compact mallet shape, and I appreciate how it gently steps down on the flange. I could see myself using this one."    
TaylorMade Spider GT Notchback
Spider GT Notchback blends traditional mid-mallet shaping with contemporary construction. A shorter blade length and a wider area from leading to trail edge create a time-honoured shape that is enhanced by dual tungsten weights.
The details: A throwback mid-mallet shape with a forward-placed CG to make face rotation easier — a design trait favoured by golfers who have arcing strokes. It comes with a lightweight 6061 aluminium body and carefully placed 86g dual-tungsten weights on the heel and toe for what TaylorMade claims is the highest MOI you'll find in any mid-sized mallet Spider. Furthermore, the tri-sole design makes it easy to rest on the ground without tweaking the face angle.
TaylorMade Spider GT Splitback
We tested: TaylorMade's Spider GT Splitback putter
Our take: The "Splitback" design is meant to add some stability to the head, but more than a few testers mentioned the wings allowed them to easily line up the ball to the target. "The area between the wings is about the width of a ball, so it's simple to set the ball down, get the putter in position and pull the trigger," said a tester. The performance is what makes Splitback a great putter, but there's nothing wrong with additional benefits being part of the design.  
TaylorMade Spider GT Splitback putter
The modern wing design has sharp angular features and extreme perimeter weighting for optimal forgiveness and roll. So, no matter how you look at it, it's stability from every angle.
The details: Featuring a split-winged design that distributes weight around the perimeter for a high MOI. There's no aluminium in this model and because it's made of heavier steel, designers pocketed out the wings and filled them with a urethane foam (ala the SpeedFoam used in TaylorMade's P770 and P790 irons) to improve sound feel and also to reduce vibrations. The GT Splitback also features TruePath — TaylorMade's ball alignment and stroke visualization aid. The black/white contrast and arrow-shaped back edge helps golfers visualize their stroke and the ball path before executing a putt.
Toulon 2022
We Tested: Toulon Atlanta, Memphis, Las Vegas DB, Las Vegas H4.5, Daytona Beach, Le Mans, San Diego, Madison, Chicago
Our take: The new, high-end Toulon putters are more than just eye candy. While the updated midnight look had our testers fawning over them, the putters produce a precise roll and come in highly forgiving head shapes. "I absolutely love the futuristic look," one tester said. "It feels like a milled blade putter, but performs like a mallet. The roll is true and consistent. It's gold."
Toulon 2022 San Diego putter
The 2022 Toulon Design putters have been completely reimagined to improve performance with a new Deep Diamond Groove mill pattern, split weighting system, our new Stroke Lab shaft and midsize pistol grip.
The details: Toulon's new milled putters have double fly cut, diamond-shaped grooves on the face that are made to enhance forward roll and feel. The lineup comes in nine different head shapes, each of which have a new midnight black look that makes the white alignment lines pop on the surface to help with aim. To dial in performance, the soles have adjustable weights.
XXIO 12 Blade
We tested: XXIO 12 Blade
Our take: Premium putter connoisseurs will appreciate the clean aesthetics and fashionable color blocking between black and satin finishes. The blades feel as good as they should at a $300 price point, and come with tech designed to make them more stable through the stroke. XXIO is succinct in their motive here — the company wanted to make a putter that looked great, felt great and helped improve consistency. This putter checks all three boxes, easily.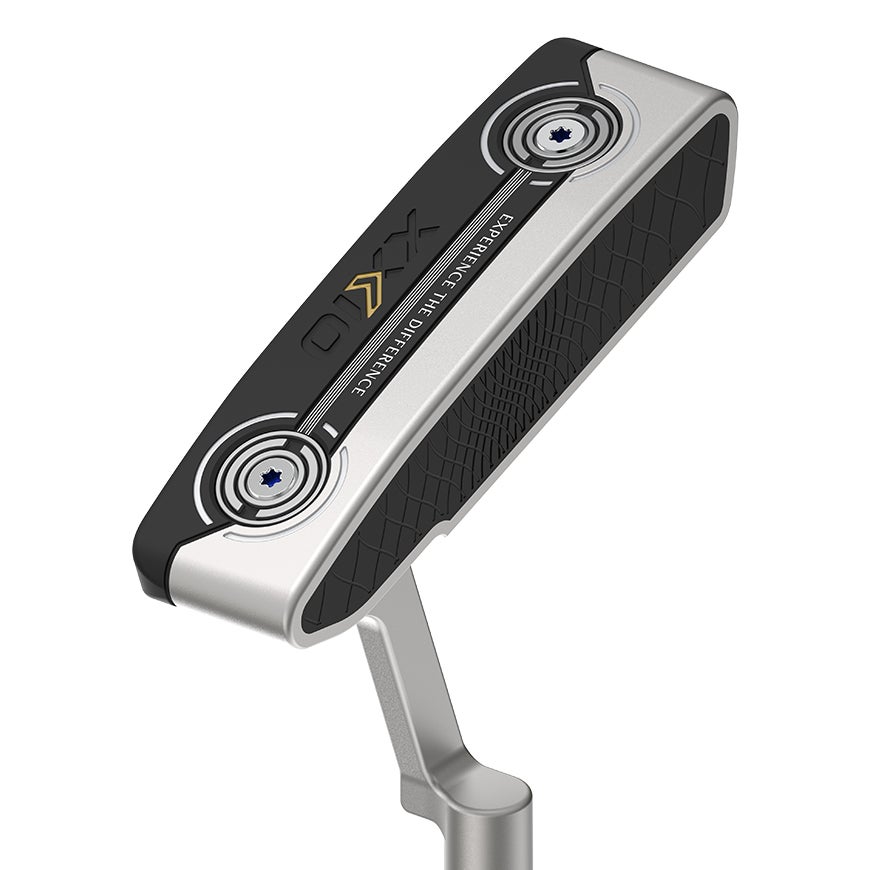 XXIO 12 Blade putter
The new XXIO Blade Putter's tungsten weights help increase stability and MOI, while specially designed face grooves offer consistent ball speed between square strokes and off-centre ones.
The details: Featuring a classic blade silhouette, the 12 comes with tungsten weighting in the heel and toe for a higher MOI and added stability. But, it's the putterface that garners the most attention due to the full length TPU insert that harkens back a couple decades to an era when TPU were all the rage for having a soft but responsive feel. The face features variable face grooves that normalize speed on not just centre-hit putts, but on putts struck away from the sweet spot.  
XXIO Blade
We tested: XXIO Blade
Our take: XXIO makes high-end products across it's entire line, so we expected precision with the XXIO Blade as soon as we laid our eyes and hands on it. The premium putting experience begins with a 303 stainless steel billet that's milled and then enhanced with high-density tungsten nickel weights to deliver a putter with exceptional feel and balance. Tech aside, these putters look as good as they feel, sporting a gorgeous satin finish with splashes of blue. 
XXIO Blade putter
Precision milled from soft 303 stainless steel, the XXIO Blade putter offers exceptional feel and consistent ball speed on every stroke. The XXIO Blade Putter helps you achieve your best putting performance.
The details: The precision milling makes this putter among the few that have truly flat putterfaces for consistent rolls and exceptional balance through the stroke. Its design is centred around consistency not only in construction, but in helping deliver a consistent roll on every putt. 
XXIO Mallet
We tested: XXIO Mallet
Our take: If you're seeking a precision-milled mallet from a premium manufacturer, XXIO's offering might just fit the bill. It's stable and buttery soft, and the extra weight in the toe and heel will help keep your putts on track. XXIO makes some beautiful equipment, but if we had one gripe, it's in the naming. We get that it's a mallet, but at the very least it deserves a model number or name!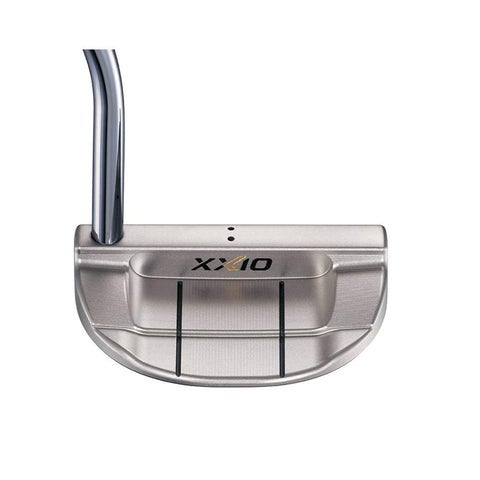 XXIO Mallet putter
XXIO Mallet Putters are forged from soft 303 stainless steel and feature tungsten weights in the toe and heel for better results on the green. Precision Milled Milled from a single billet of forged 303 stainless steel, XXIO putters offer a stable putting platform with premium feel.
The details: It's milled of 303 stainless steel for the utmost in balance, consistency and feel. It comes with a dual-line alignment aid for better aim and, like the Blade, comes with tungsten nickel weights in the heel and toe areas to boost the putterhead's MOI for less face twist on off-centre putts.