They were the shots heard round the world.
The literal trumpets sounded at the Saudi-funded LIV Golf Invitational series, and the 48 players re-shaped the era of professional golf as we've known it.
After months of speculation, hypotheticals, rumours, hype, and escalating tensions, this latest development was hard as concrete. Shortly after play began, the PGA Tour outlined its rules of engagement: All players competing in the LIV event would be suspended and deemed ineligible from competing in any PGA Tour-owned or operated properties.
"These players have made their choice for their own financial-based reasons," PGA Tour commissioner Jay Monahan wrote. "I know you are with us, and vice versa. Our partners are with us, too. The fact that your former Tour colleagues can't say the same should be telling."
The Tour Wars have officially begun. As for what may happen next? Let's break it down.
1. More players will defect
The launch of LIV Golf means the PGA Tour will be forced to co-exist for the time being. And while I wouldn't say two tours splitting the pool of golf talent is good for the sport (Let me be very clear: it's not), it's worth remembering a two-tour structure isn't entirely unprecedented in golf.
In the 80s and 90s, the European Tour stood on relatively equal footing with the PGA Tour in terms of strength, with players playing mostly on their home circuits except for the majors. Having a singular, centralized tour is better for the game on the whole, but I'm cautiously optimistic the game will not shatter into a million pieces along the way. Though it's not the path I would've chosen, I have faith that professional golf will make it through this messy period, just as it emerged stronger back then.
The difference of the split this time around, obviously, is the animosity. Players must effectively choose one week-in, week-out circuit or the other. Each new wave of defections from one roster is a dramatic addition to the other.
Players are moving quickly. A source with intimate knowledge of Bryson DeChambeau's imminent departure to LIV Golf says that for a while, the deal was dead. But when negotiations resumed, his offer surpassed the previously-reported $120 million signing bonus and came together in less than two days. When DeChambeau jumps, Patrick Reed will join him and potentially Rickie Fowler, too. Bubba Watson and Matthew Wolff recently appeared in recent promotional materials for LIV golf, which raises questions about their futures.
As for who could be in the next wave? It's hard to know for sure — maybe the players themselves don't even know yet. But now that the first ones are through the wall, the next ones will be soon behind.
2. The PGA Tour will adapt
As my colleague Dylan Dethier outlines in his tweet above, an ongoing frustration amid golf fans is that Saudi Arabia bankrolling LIV has obscured the legitimate gripes fans have with the PGA Tour's current product. Ideas to improve it, like the PGL, were dismissed out-of-hand as the PGA Tour sought to engage the debate entirely on moral grounds. Make no mistake: the Tour holds the higher ground in that argument, but many fans feel some self-reflection is still required.
Most of the critiques centre on the notion that golf, on a week-in, week-out basis, has been watered down to the point where it doesn't taste like much anymore. There are too many tournaments, too many players, too many hours of coverage. Must-watch television can't exist in that landscape, and rather than care about it all, fans only kind of care about everything — that is, if they're paying attention in the first place. Golf is, first and foremost, a recreational game, and there's only so much bandwidth for watching more and more of it. It's why you so often hear a common refrain.
"I only really watch the majors, or when Tiger's playing."
An optimistic outcome for the PGA Tour during this disruption is that it comes out of the other side better. The shotgun start format, for instance, is one the Tour could easily adopt in certain events, like its WGCs. The coverage window on LIV's broadcast was just over four hours, which made for an intuitive viewing experience so you could see how players fared against each other in real time.
3. The Tour will try to strike a deal with the majors
The unintended consequence of a spread-too-thin golf product is that the game has consolidated around the majors, which means The Masters, PGA Championship, U.S. Open and Open Championship have perhaps more leverage than anyone in this debate.
The timing of events means the majors have the luxury of waiting and seeing how things play out. The ship has sailed when it comes to sanctions for this year's Opens, and it's not a Ryder Cup year, so the PGA of America (which runs the Ryder Cup) can wait on that decision.
Perhaps I'm wrong, but I struggle to see the majors taking on the burden themselves, and straight-up excluding players from their own field just to do a favor for the PGA Tour. What I do think may happen, however, is that the powers that be will use the OWGR as a kind of proxy to make life difficult for LIV players, should they choose to do so. Could LIV players be deemed ineligible for OWGR? Or could OWGR refuse to recognize those events and therefore not award players playing any points? Could they re-jig their own qualification along the way, to make it ultra-dependent on OWGR points?
This is pretty intense theorizing, of course, but a cursory look at the governing board of the Official World Golf Rankings means I wouldn't discount any of those as possibilities, if they choose to stand in solidarity with the PGA Tour…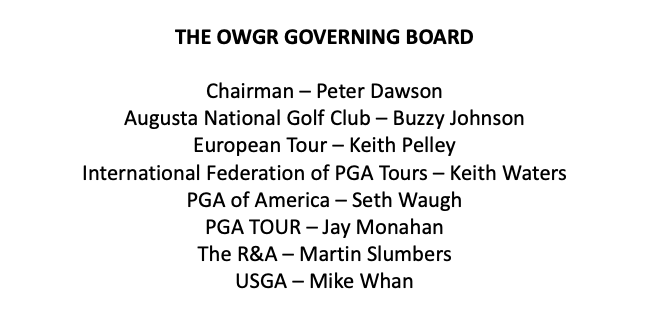 4. A sponsor and partner boycott could win this for the Tour
Continuing in the spirit of speculation: PGA Tour commissioner Jay Monahan mentioned sponsors and partners multiple times in his letter to players today. That angle is one that's talked less about than the majors, but one I can't help but wonder if that could be the ace up Monahan's sleeve in all of this.
The Tour may not have control over the majors, but it does work quite intensely with a wide array of media partners, sponsors, and equipment manufacturers. If he can work to triangulate those partners against LIV and its players — to prevent LIV from getting a broadcast deal or coverage, for instance, or encourage equipment companies to run from LIV players, thus depressing their ability to receive the highly-specialized equipment upon which they depend — the tradeoffs start shifting.
5. Public scrutiny will heighten
The rise of LIV has vaulted golf into the centre of a mainstream debate about ethics, morals, and sports washing. If fans feel invested in the homegrown American product that is the PGA Tour, and the Tour responds in kind by adapting to their concerns, they could remain loyal. Or if the those considering a leap to LIV see players, week after week, continue to get subjected to intense scrutiny about the source of their generational wealth, it may stop seeming worth it.
The fans play the biggest role in all of this, and if there's a path for tour unity — or one tour's success — it'll run through them.